We seem to be finally getting to a point where I believe a significant majority of dealers follow and care about their review scores. However, the motive for active review management focuses on two different goals. One is to comply with OEM standards or excellence programs. For example, General Motors and FCA require dealerships to enroll in a reputation program as part of their dealer programs (SFE or CFAFE).
The other reason to have an active reputation program is a great reason. . .because they rightly believe that potential car buyers read reviews and consult dealer ratings to determine which dealership they will purchase a vehicle from. While that's enough justification to focus on getting new reviews and maintaining a high average rating, another benefit of a strong reputation management strategy that I don't hear often is that the Review management is part of your Google advertising or marketing plan. It really is a missed opportunity.
Investing large sums in an SEO program to increase your organic search results on Google can be a main source of new visits to your website. What is often overlooked is that reviews can have a significant impact on how Google displays your business in organic searches. If you're investing in SEO on Google, ignoring the impact of reviews on your results could waste your valuable marketing budget.
The impact of reviews on your Google search results
Google My Business has some of the best quality traffic a marketer can get, giving you the bottom of the funnel buyers who can be reached and converted. This result is true not only for new vehicle sales but even more so for service. A simple example would be to consider any search a consumer would enter on Google, such as "brake service near me" or "oil change service in (my city)". This is not research that a typical consumer would do out of curiosity. With new vehicle sales, we know car buyers might be shopping for their new vehicle for 90 days, but have you ever heard of consumers shopping for 90 days for an oil change? Consumers are doing this research in the marketplace…right now…now!
So it's extremely important that when bottom-of-funnel buyers search on Google, your business shows up, whether it's search results, the knowledge panel on the right, or map searches. . However, just having a complete Google My Business (GMB) listing won't get you there.
What is Google looking at?
We have already established that a dealer should have both a full sales listing and a service listing on Google. This complete list gives you "relevance" and means that Google might start showing your list in relevant searches, but that's only half of the equation. You want more than to introduce yourself. You need to be near the top of search results if you expect to get clicks to your website or clicks to call or get directions. The other half, according to Google, is "prominence," and that means reviews. In fact, it means more than just having reviews. Google looks at:
1) The number of reviews
2) Your average grade
3) Recency critics
4) Notice with love
5) Review answers
6) Review key words
The consumer buying process
Back to your SEO strategy. You create Google sales and service listings, then pay an agency to manage your SEO so your business appears more frequently. However, without notice, you have tied their hands and limited the results they can deliver. Reviews are a basic requirement if you want to maximize your investment in Google. What about your website? Isn't the value of SEO having more web pages to display? Yes, it's true. However, as Greg Gifford recently shared, you should think of Google as your new homepage.
The consumer buying process begins with a search on Google. While many websites show up in search results, the knowledge panel of a GMB page dominates the right side of the screen. On map-based searches, GMB powers these results. The journey for a consumer is then: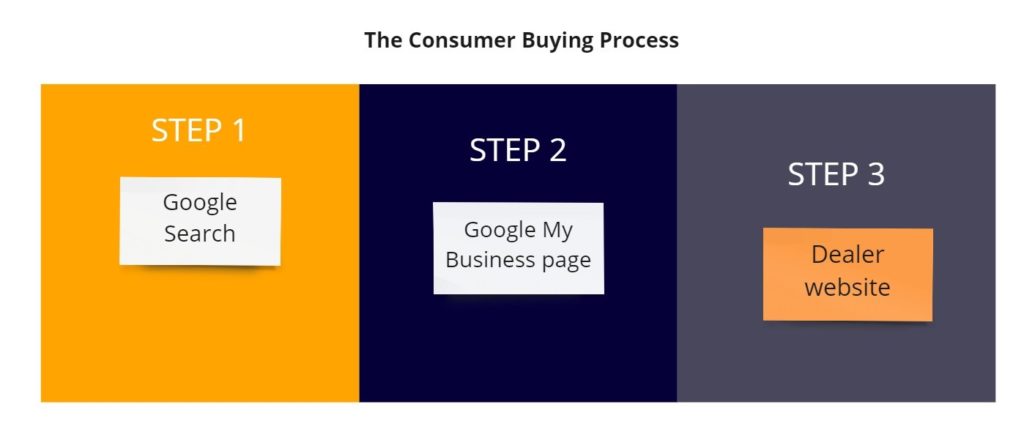 Without a constant influx of reviews (with responses), you will be limited in your efforts to view number 2 of this process, and without this intermediate step, potential buyers will find other GMB pages and end up on websites competitors.
At your next marketing meeting, when discussing website visits, before committing a budget to spend a dime on Google, check the associated GMB page and make sure you have a recent influx of good reviews, with answers.
Part 2: "The importance of reviews in your Google AdWords strategy"
Read the full study here.