Karben Marketing is one of the leading marketing companies operating in the digital space. The company has just published an article on its official website explaining six ways to improve search engine optimization content.
The article begins by stating that if a website is not appearing higher in search results or SERPs, it is missing out on a lot of potential traffic. Here are four of the six steps that can help any website improve its rankings:
The article suggests that identifying appropriate keywords in a company's existing content is very important to increasing its chances of appearing in search results. An inventory of keywords, especially of so-called low-hanging fruit, around which content is created, can help earn top positions in the SERPs.
The key to digital marketing success is keeping content fresh and optimized. The article suggests that one way to direct traffic to a specific goal is to write intriguing and distinctive title tags for each page. Higher rankings in search results can be achieved by incorporating content-relevant photos and creating high-quality backlinks that drive traffic to the page.
Having an SEO plan is essential to staying on track when producing content. To develop a successful search engine optimization strategy, the business mainly needs two types of SEO strategies: on-page SEO and off-page SEO. On-page SEO is mainly about optimizing the content of a website while off-page SEO is about improving website authority. This step is essential to improve the chances of the website appearing at higher positions in search engines.
Karben Marketing emphasizes understanding the differences between SEO and content marketing before writing content. An effective content marketing plan isn't just about SEO. When it comes to increasing website search ranking, it is recommended to focus on creating and promoting valuable content that the target audience will deem appropriate. However, the two should be used together for maximum gains.
"We've got you covered with all aspects of digital marketing, from search engine optimization (SEO) and search engine marketing (SEM) to social media management and marketing campaigns. We'll work with you to increase traffic to your brand's website, ensuring it gets the attention your business deserves. Allow our team to develop a solution tailored specifically to your business needs while respecting your financial constraints," said the Karben Marketing team representative.
The six steps outlined in Karben Marketing's article are essential to establishing an effective search engine optimization content strategy, with the end goal of increasing website traffic. The article also discusses the differences between SEO and content marketing. Readers can read the blog post in full by visiting the official company's official website at https://www.karbenmarketing.com/
About Karben Marketing
Karben Marketing is one of digital marketing leader and graphic design agencies based in Naperville, IL. The company also offers some of the best search engine optimization services and many other digital marketing services for businesses of all types and sizes. Karben Marketing has a growing team of creative professionals who are considered the best in the business. By hiring the best, the company can deliver unparalleled, award-winning service that continues to deliver results, including more awards each year.
###
Contact
Karben Marketing
1515 Legacy Circle, Suite 3G Naperville, IL 60563
630-614-1110
[email protected]
https://www.karbenmarketing.com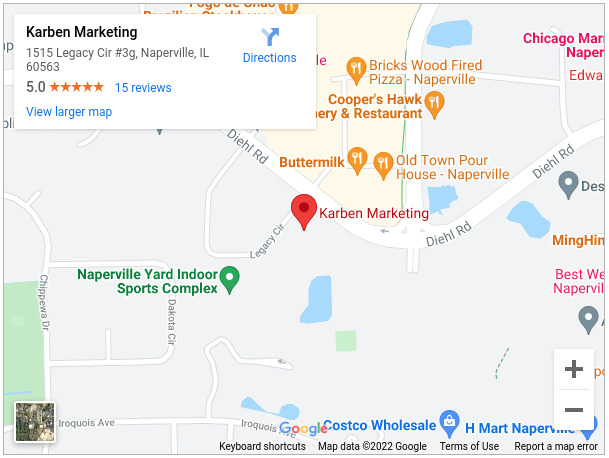 writing: news.38digitalmarket.com
Build ID: 307703